About Us
Jivika Healthcare is incubated at the Indian Institute Of Technology, Hyderabad, and the Center for Health Entrepreneurship (CfHE). Jivika Healthcare introduced India's 1st Doctor-based Mobile Vaccination Service – VaccineOnWheels in 2019.
Operational since 2019, we are pioneering affordable & equitable healthcare and have served more than 2.5 million hard-to-reach populations within 40+ Districts of 6 States. We are continuously striving towards building an affordable healthcare ecosystem by serving people from all economic strata with our 3 verticals – VaccineOnWheels, ChemoAtHome & Public-private Partnerships.
VaccineOnWheels
India's 1st-ever subsidized interest-free EMI mobile Vaccination service for vaccines not covered by the government for the Bottom-of-the-pyramid.
ChemoAtHome
To provide diverse cancer care services exclusively for cancer patients. To help cancer patients in their battle of life, we have introduced Doorstep Chemotherapy Service to ease chemotherapy treatment.
Public-Private Partnerships
Work at the intersection of ideas and implementation. We bring multiple stakeholders together to co-create an effective & sustainable model to maximize Social Impact in Rural India.
We work with foundations, non-profits, philanthropies, multi-laterals, and companies across India under their CSR.
Total marginalized communities served
Serving Since 2019
>
0
%
Sr. Citizen Vaccinated
Our Core Values
Integrity
We ensure transparency, honesty and ethical conduct in all our practices.
Delivery
To provide reliable, accessible, and efficient vaccination services to protect individuals and communities against vaccine-preventable diseases.
Patients First
Our patient-centric approach ensures convenient access to vaccination centres within a 500-metre radius, flexible scheduling, on-site post-vaccination consultation, and timely reminders for a comprehensive vaccination experience.
Excellence
Highest safety standards, skilled healthcare professionals, and up-to-date protocols.
Quality Services
Doctor-based vaccination ensures the administration of vaccines with utmost safety, accessibility, reliability, and efficacy, along with on-site care for Adverse Events Following Immunization (AEFI).
Innovative Solutions
Our service innovation enables flexible payment options, including EMI-based payment plans, seamless digital payment methods, and easy access to vaccination services within 500mr radius.
Evolving service
We constantly stay abreast of the latest advancements and research, adhering to the standard protocols defined by World Health Organisation (WHO) and Indian Academy of Pediatrics (IAP).
Operational Excellence
Optimising vaccine storage, distribution, scheduling, and record-keeping, facilitated by competent personnel, ensures maximum efficiency.
Our Mission
To serve 25 Million marginalized population by 2025 – Mission
Our Vision
To increase immunization in India through equitable, affordable and convenient vaccination service for all.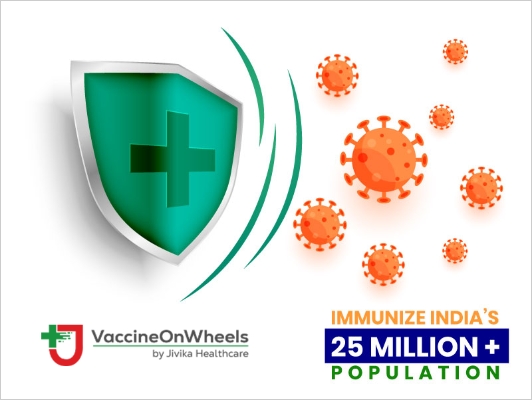 Our Partners
Government
Corporate Partners
Strategic Partners
Lifetime Partners